Planning to visit the Mona art gallery in Hobart, Tasmania? Our post gives you all the info you need to know about getting there, opening hours and entry fees.
Hobart is well known for being home to one of the very best and most controversial museums in the world, Mona. Many people looking for Hobart accommodation with us look for something nearMona as it's one of the top things to do in Hobart. But you're probably better off choosing accommodation that is central and then taking the ferry to Mona from there (details below).
About David Walsh, The Owner Of Mona
Mona, or the Museum of Old and New Art, sits on a private island owned by David Walsh, an ex professional gambler and art collector who made a name for himself by working out how to make millions beating casinos with unique gambling algorithms.
David's number plate says "GOD", not because he's narcissistic, but because he's simply having a laugh at himself and his own success.
In many ways, he has touched the sky (perhaps accidentally) and so he has made it his thing to ground himself by building a museum into the earth and under the ocean. Because he's such a great guy, he spent most of his prize money on collecting beautiful art and then sharing with with the public in a confronting and unconventional display, essentially breaking all the rules and giving the finger to high society.
Visit Mona while you're staying in Hobart and see this amazing collection!
Mona Opening Hours
The museum is open 10am–5pm.
Closed Tuesdays and Christmas Day.
Summer opening hours are 10am–6pm from Friday 1 December 2017–Monday 2 April 2018.
From Friday 19–Sunday 21 January 2018, Mofo (Mona's summer festival of music and art) takes over Mona. During this time, you'll need a Three-Day Mona Pass or relevant Day Pass to access the museum or Mona site.
Mona's Entry Fee
If you are Tasmanian or under 18, the entrance fee is free (pick tickets up on site).
For everyone else, the cost varies between $25–$28 (adult) and $20–$25 (concession) depending on the time of year. You can purchase your tickets here on the Mona website prior to visiting.
Admissions cost may change without notice. ID will be requested upon entry.
Mona Ferry Times
Although you can access Mona by road (the 'island' is joined to the mainland), most people take the boat to Mona from Hobart CBD. There are several boat/ferry options with different levels of comfort and cost. You can check the up to date ferry timetable and ferry price here.
What makes Mona so cool?
Most of the art is underground and underwater, so you have to descend 17 metres down a spiral staircase to begin your journey from the basement under the ocean
The art is uniquely shocking, beautiful, scary, breathtaking. It will make you think, it will make you feel, you will be educated
Walking through Mona is like walking through an art installation in itself. The idea, perhaps, is that nothing is certain. Take from it what you will.
Mona has a sense of humour and doesn't take itself too seriously. There's a button marked "ART WANK" on the iPod visitors use to navigate the museum
There's a tennis court at the entrance to the museum, which is far from your standard grand entrance. When Mona curator Delia Nicholls was asked what it was about she stated "because David likes Tennis"
David Walsh has included personal commentary on some of his collection, which is an incredibly refreshing inclusion, considering the droning and dull explanations of artworks that appear in 'regular' museums all over the world
Because it's in Hobart, a city of culture, food, art, craft beer, and friendly faces. If Mona were somewhere else, it just wouldn't work in the same way.
Mona Poop Machine
"What?" – I hear you say. Yes, that's right. The one piece at Mona that people love to hate (or hate to love?) is the poop machine by Wim Delvoye. Slate.com says:
"Deep down in the museum's cavernous underbelly—inside that mirrored box building—sits Wim Delvoye's cloaca machine, otherwise known as "the shit machine." The Belgium artist's vast array of whirring tubes and bags mimic the workings of the human digestive system. The apparatus is fed food and produces poo. Isn't modern art, Delvoye seems to say, just a load of crap?

The machine is MONA's most hated piece. But it is also the one visitors spend the most time taking in. It is, at once, magnificent and repulsive. And that is exactly how David Walsh, multimillionaire, professional gambler, and MONA's founder, likes it."
Will you love it or hate it?
How Long To Spend At Mona
Mona is not the biggest museum in the world (phew!) but you should aim to spend more or less an entire day there to really take it in.
Food and drink
There are plenty of places to stop and rest and get some top-quality food and drink to recharge those batteries. Hobart is known as a city of gastronomic delight and Mona is no exception! Your options include:
The Void Bar
"After descending into the depths you'll see a light. That's the Void Bar. It serves some of the best cocktails in Hobart—nay, Tasmania! Nay, the southern hemisphere!—and, of a weekend in the cooler months, has free live music." – MONA website
---
Cellar Door
"Come sip and swill Moorilla wine and Moo Brew beer beneath John Olsen's The Source (2002–03). Bookings are not required for 8 people or less." – MONA website
---
Museum Cafe
"For something quick and easy, or a brief intermission from the feast of art below, head to our spiffy little cafe at the museum's entrance. You'll find hot coffee and tasty treats, and if you need to absorb everything you've just seen, there's a nice little sunny spot overlooking the jetty." – MONA website
---
Wine Bar
"Relax and fill up on seasonal treats, share plates, and house-made breads and pastries before or after delving down into the museum's underworld. Sit inside or outside, on the patio, or catch the sun on the grass" – MONA website.
---
The Source Restaurant
"The Source Restaurant takes its name from the John Olsen painting that hangs from the ceiling of the foyer. The focus is on seasonal local produce, presented according to the whim of Vince Trim (ha), our Executive Chef, and his team. Shared plates, fresh, uncomplicated food, and a lovely outlook over the museum grounds." – MONA website
---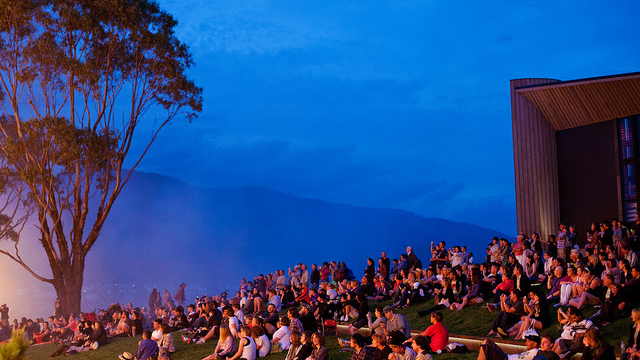 Other activities
There are plenty of things to do at Mona from the Mona weekend market on the lawns, individual exhibits, CineMOFO (Late Jan – early Feb) and regular music and festival events including MONA FOMA (mid January).
Mona will make you feel alive, or perhaps not
The last time I visited Mona, there was an installation that consisted of a range of light bulbs in an intricate display. You could walk up to the piece, hold a rod, and the bulbs would light up to the rhythm of your heartbeat. It was really cool, until I tried to do it.
Nothing happened.
Perhaps I'm a ghost, or Mona was just challenging me to think existentially. I wonder what Mona will do for you?